INNOVATIONS
The Nicholl Group of Companies is at the forefront of developments in the food packaging industry. We have expanded our range of packaging products to include fibre pulp trays, dual-ovenable board, film lidding and SKINfoil™ to supplement our core range of aluminium trays and smoothwalls.
Winner of Alufoil Trophy Awards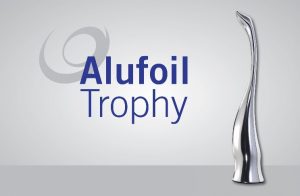 Nicholl Food Packaging's recently-launched Micro-Rib™ aluminium foil food tray has won an Alufoil Trophy in the Resource Efficiency category, with the judges praising its lightweight properties and advanced manufacturing process, which deliver noticeable environmental benefits.
Micro-Rib™ features cutting edge tool design which, along with Nicholl's ongoing development of alloys, offers manufacturers the lowest weight food tray whilst still delivering the strength and appearance of a traditional smoothwall tray. The tray incorporates a minimum 12% less material compared to standard trays, making it 7% lighter than its lowest weight competitor with no reduction in cubic capacity.
A smooth flange area ensures good heat seal integrity, and the customdesigned rib technology creates added rigidity to provide the necessary strength for efficient production line performance. The rib design also allows space for brand logos on the base.
Alufoil Trophy head judge Terry Robins praised the MicroRib™ as "attractive, resource efficient and consumer friendly."
Typical applications include ready to cook meat, poultry, fish, roast potatoes, barbeque meats with marinades, and roasted vegetables.
Customers can also further enhance their environmental profile by specifying delivery of the trays in returnable packaging solutions, which reduce outer packaging waste.
Read More
Innovative Food Packaging
Fibre Pulp Trays
Key benefits of pulp
Trays are made from 100% renewable resource
Ovenable to 204 degrees C
Microwavable
Freezer to -40 degrees C
Superior heat retention
Cool to touch when taken out of the oven or microwave
Strong fibre design that will not collapse during the cooking process
Dual Ovenable Board
Using our Dual-Ovenable Board trays and a suitable film lid, a leakproof pack is achievable for a variety of chilled and frozen applications. Recipe dishes that contain sauces, grease, oils and gravy can also be accommodated, and packs remain consistently leakproof whilst in transit, storage, refrigeration and through to consumption.
Dual-Ovenable Board trays used in conjunction with film lidding for chilled applications present numerous advantages over traditional tray materials. In microwave and conventional cooking conditions, trays remain rigid which in turn keeps the contents of the pack intact and provides safe handling of the end product to the consumer. Trays can be printed with either a registered or random design to offer an enhanced pack presentation, compared to either plain Ovenable Board trays or CPET trays.
Film Lidding
For use with foil, pulp & other dual ovenable trays.
Film solutions are available for our moulded pulp paper trays, pressed board trays, and our high quality plain or lacquered smoothwall aluminium foil trays
They offer optimum lidding for almost all food sealing applications
Lidding can be optimised to suit the product, the type of seal required, the shelf life, as well as the application
Standard films are available for fresh or frozen food applications
Can be custom flexographic printed, in up to 8 colours, to maximize shelf appeal of the product
Plastic Lidding
Flat or domed lid. 100% recyclable.
Various lid options which complement the Nicholl range of foils
Available with flat or domed lid options
Withstand temperatures from -30° C to +70° C
Excellent product presentation / clarity
Trays can be heat sealed with film before lids are applied
Food packs can be conveniently relidded after partial consumption
SKINfoil ™
These attractive skinpack foil trays (SKINfoil™ ) provide the ultimate convenience of an oven or grill tray.
Ideal for food products of all types, for example:
Mini Joints
Meat and Sausage Products
Game and Fowl
Fish and Seafood
Ready to Cook Meals