ABOUT Nicholl Food Packaging
The Nicholl Group of Companies will continue to build upon its reputation for quality product allied to excellent customer service.
Throughout the Nicholl Group of Companies, we have established levels of production efficiency, hygiene, technical controls and quality protocols which are regarded as industry benchmarks throughout Europe. Our workforce is committed to the success of our venture and we discharge our environmental responsibilities thoroughly. We are very proud of our business and our reputation.
Our headquarters in Cannock, Staffordshire, England is purpose-built and once again establishes new standards for the whole packaging industry to follow. Our rigorously applied industrial logic of maintaining low unit cost output when compared with the rest of Europe is delivered in the most hygienic conditions.
As a customer of the Nicholl Group of Companies you do not have to demand competitive cost, quality, reliability and service – you have a right to them and you can expect to receive them from our first day of trading.
For more than a decade, customer satisfaction and reliability have been our watchwords. The result is that we have an excellent reputation throughout the food industry. As a result of continuous Capital Investment and by using innovative engineering and continually monitoring manufacturing procedures, we aim to be the lowest unit cost producer of aluminium containers in the UK.
Pest prevention and control are monitored to the highest food industry standard. We adhere to stringent hygiene regimes, and subject our company procedures to external scrutiny. Nicholl Food Packaging has been awarded the British Retail Consortium Hygiene Standard.
NEW IDENTITY
In 2014 the Nicholl Group of Companies, an umbrella group for Nicholl Food Packaging, Ecopla and Bachmann, was given a fresh new identity. The new company name, ADVANTA, represents the forward thinking nature of the business.
Originally founded in 1989, we have grown to encompass production facilities on a large site in the UK.
History of Nicholl Group of Companies
Founded in 1989, the Nicholl Group of Companies has grown to encompass production facilities on a large site in the UK.

These are complemented by a further manufacturing facility in France, a manufacturing facility in Germany and a Northern European warehousing and distribution hub in Belgium. These sites are operated by our Ecopla and Bachmann companies.
By organic growth and acquisition, we have become the largest producer of aluminium foil containers in Europe.
In the Beginning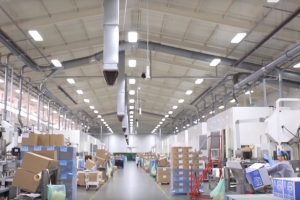 Nicholl Food Packaging began trading in 1989 with a small factory in Wolverhampton, but a year later moved to a 7,486 square metre site at Aldridge.This substantial site had plenty of room for natural expansion.
Continuing growth led to a move to a new headquarters near Cannock, Staffordshire, England in 2004.
Sale of the Company
Nicholl Food Packaging has been sold by administrators to the Euro Packaging Group, for an undisclosed fee.