Digital solutions for end-of-line packaging: Mosca at Interpack 2023
2023-04-10
Focusing on digital solutions and optimized packaging: The Mosca Group will be present at Interpack 2023 (4-10 May, hall 11, stand D56), exhibiting the new TR-Connect high-performance strapping machine, with a full range of advanced digital functions. Other highlights include the introduction to the Mosca TechCenter, where customers will be able to review their cargo fastening systems and optimize them for greater stability during transportation. Movitec, a subsidiary of Mosca, will present its Saturn S8 baler at Interpack (Stand E32, Hall 12).
---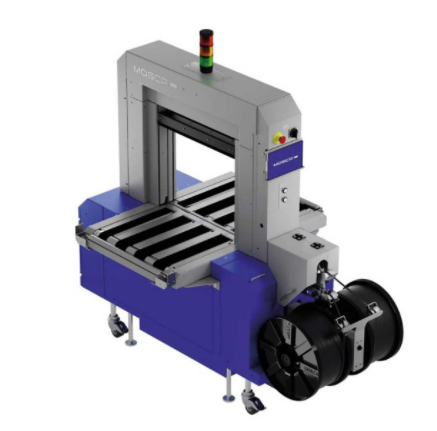 From strapping to wrapping for greater stability or securing packages to pallets: when securing loads at the end of the packaging line, certain requirements must be met depending on the type of goods, the packaging material and the destination. When the end-of-line packaging system must be integrated into a fully automated intelligent process, new needs arise.
The remote control of the machine, which can be done at any time, reduces downtime
Designed to meet all current requirements, the advanced SoniXs TR-Connect high-performance strapping machine from Mosca combines the advantages of the SoniXs TR-6 Base and TR-6 Pro models. The TR-Connect can be easily integrated into existing production lines thanks to an integrated WebHMI and other standard interfaces. Mosca's Innovation Director Andreas Ding explains: "Key parameters such as performance, strap settings and availability can be monitored at any time via the WebHMI and easily adapted to needs." The new interface also simplifies the start-up and operation of the machine. An optional digital package adds functionality and allows all relevant machine parameters to be controlled via a tablet, regardless of time and place.
The range of machines ranges from baling to pallet strapping
Mosca will also present at Interpack a versatile end-of-line combination consisting of conveyors, the Movitec Saturn S6 baler and the KZV-111 pallet strapping machine. This system is ideal for the logistics, food or construction industries. Visitors to the fair will be able to watch a live demonstration of how pallets are secured for transportation using the best end-of-line solution. The wide range of wrapping technology will be presented at Interpack by Movitec, Mosca's subsidiary (Stand E32, Hall 12) with the Saturn S8. This fully automatic baler is capable of baling up to 160 pallets per hour.
The Mosca KZV-111 pallet strapping machine is ideal for use in the logistics industry. Its mobile strap lance positions the strap precisely and fixes the goods to the pallet. In addition, vertical strapping stabilizes lightweight products. The KZV-111 flejas up to 61 pallets per hour with a cycle time of about 12 seconds and uses eco-friendly PET strapping made from 100% recycled materials. The strap splicing/joining device, which seals the end of the strap of an empty reel with the start of a new one, allows users to further minimize material consumption and reduce their carbon footprint.
Mosca's TechCenter helps develop efficient end-of-line solutions
Mosca's new TechCenter also focuses on resource efficiency. Thanks to the various test systems to simulate vibrations, impacts, crushing force or other factors, customers can test and optimize the stability and durability of their packaging systems under extreme conditions. Mosca offers information about this process at its Interpack stand: Pallets with strapping products are placed on the testing tool, which tilts the pallets to a predefined angle. This allows customers to check the stability of a strapped load when it is tilted. The president of Mosca, Timo Mosca, explains the concept: "We subject our customers' transportation systems to extreme conditions in our TechCenter to show them how different aspects can be optimized. This way, we can use our expertise to help develop efficient, resource-saving solutions without having to compromise on safety and quality."