Food Packaging and the New Regulations
2022-12-21
What is the best material for food packaging?
What measures should be followed for the protection of food in the new normal?
Monomers are derived from renewable sources of energy but for their conversion into polymers a chemical transformation is required, this is the case of starch or cornstarch.
Even without exact figures, but in this current pandemic situation, the setback we have had in the excessive consumption of plastic products is evident in various parts of the world. The new normal in terms of packaging is concerned imperatively called on the producer of everything related to plastic to accelerate its production in the products that are classified as disposable.
The current pandemic calls into question the sanitary methods that were used to sell food both in the supermarket and specialized establishments, particularly in specific products such as butchers, mills, fruit and vegetable vending machines, tortillerias, bread sales, candy stores among many others, like the same sale, but in entertainment establishments and restaurants; not to mention the excessive use of packaging material in the now much requested e-commerce. Such sanitary methods have resorted to the excessive use for the moment of plastic material for the accommodation and separation of food in order to make them and ensure them totally clean.
Without any legal regulation, the production of playo or any packaging film made from polyethylene resin has been increased again, plastic bags of different sizes to pack what is already packed individually and move from the counter to the means of transport and get the "take-away food" to its destination; plastic materials to bag in popular markets, the excessive production of PET plastic containers and containers for food safety and we insist, in this pandemic situation where priority has been given to "everything to take away" and the use of any type of plastic container and container to increase "food safety and cleanliness". The vast majority of these are plastics produced from non-renewable sources of energy such as oil or gas.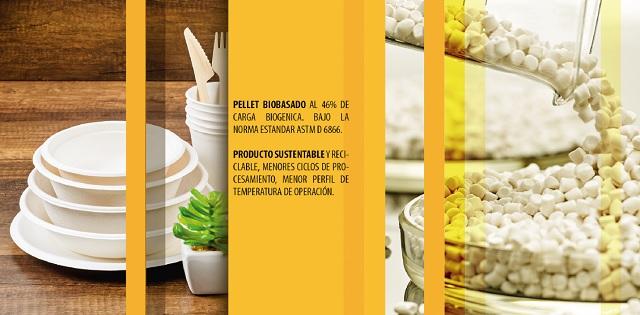 The competent authorities and organizations will have to legislate again and put into practice detailed analyzes and examinations that will lead us to the expected results to have the obligation to produce plastic materials that derive from renewable energy sources but that for their conversion into polymer requires a chemical transformation such as starch or cornstarch.
Understanding the current challenge our company Adisa and concerned about having an important job with the conservation and care of the planet and everything that it encompasses, and managing to enter a guild that produces in very high percentages with non-renewable sources of energy, our commercial advisors have the enormous commitment to create alliances through biobased pellet with a good percentage of biogenic load. The company's specialized staff and with the mission of working and accompanying in the innovation of respective processes, has for distribution, formulation or addition biodegradable material of the BL-F resin manufactured by Adisa, and we are pleased to inform you that said product (BL-F), contains a minimum of 46% biogenic load, renewable and sustainable material of natural origin and complies with the NMX-E-267-CNCP-2016 standard.