How to Maximize the Efficiency in the Coding of Cardboard Boxes?
2022-12-12
Do you know the advantages of corrugated cardboard? Do you know the coding process on cardboard boxes?
In the packaging industry, the use of corrugated cardboard for the production of boxes revolutionized the way of storing and transporting inputs.
Corrugated cardboard has been present on the market as a packaging material since the mid-nineteenth century.
Its introduction as a packaging material was so important that since 1903 the United States government made corrugated cardboard official as a material for the manufacture of boxes, becoming a great contribution to making the storage and distribution system of various types of products more efficient.
The design of corrugated cardboard for boxes is simply made up of two flat sheets adhered to an intermediate corrugated layer, which provides a versatile manufacturing solution, adaptable to a wide range of technical requirements and with excellent rigidity and resistance to protect the goods properly.
Advantages of Corrugated Board
More than a hundred years have passed and corrugated cardboard is still in force, thanks to its multiple advantages:
Flexibility for manufacturing: In addition to its low production cost, it can be cut and die-cut into a wide variety of sizes to meet specific requirements.
Low weight raw materials: Facilitates the reduction of transportation costs.
Recyclable: It adapts perfectly to operations with sustainable policies.
Optimal material for printing: Information, images and color can be added that help the graphic communication and marketing of the product, but not only that, corrugated cardboard is a material that can be easily adapted to a product identification process for complete integration into the distribution chain.
El proceso de codificación del cartón corrugado
Regarding product identification, and in order to take advantage of the benefits offered by corrugated cardboard boxes, in Mexico there is still a great opportunity niche to incorporate product identification systems in secondary packaging.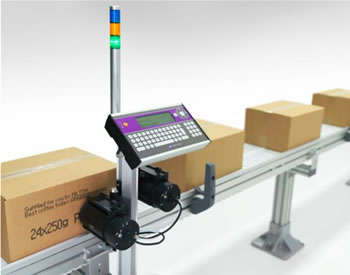 The cardboard box is incorporated into the production line as generic packaging and through the printing and application of labels or low or high resolution inkjet technology, it is possible to encode vital product information such as production batch, quantity of units, best before dates, country of origin, destination and bar codes.
The correct identification of the secondary packaging makes the inventory and storage process more efficient, generating significant savings by reducing raw materials and warehouse volume needs.
Also, beyond a protection instrument for the manufactured product, the cardboard box becomes a powerful information tool during the distribution process since it allows tracking the product in case it is necessary to withdraw some batches from the market.

To maximize the benefits of coding in secondary packaging, the plant manager must have impartial external advice to know what the requirements are for the electronic capture of information according to their business turn.
Subsequently, it is recommended to do a thorough analysis of your processes to identify areas of opportunity in the cost area and in the operation, as well as determine the information that you really need to incorporate to make the supply chain more efficient.
For example, there are companies that make a lot of effort to print barcodes on the cardboard box, allocate the investment and it turns out that in practice the codes are never read, with which, the savings that every company seeks are not achieved.
Therefore, there are more and more companies that, beyond operating to comply with the rules, seek to generate savings and incorporate sustainability practices. Faced with this trend, coding in secondary packaging is an excellent alternative that contributes to increasing productivity.
Markem-Imaje, is a recognized global manufacturer of product identification and traceability solutions, offering a complete, reliable and innovative line of inkjet, thermal transfer, laser, label application and printing systems. With more than 95 years of experience, Markem-Imaje provides fully integrated solutions that make it possible to produce quality, safe products, according to regulatory standards and improving production processes.
Get to know the Profile, Products, Address and Phone Number of Markem-Imaje.
Or, contact Markem-Imaje directly to request more information about their inkjet encoders for cardboard boxes.