iXAPACK GLOBAL weighing and labeling solutions for the agri-food and cosmetics industries
2022-12-30
The French company iXAPACK GLOBAL designs and manufactures cutting, weighing, packaging and packaging equipment. Located in the west of the country, the company has a single production center where all its design and manufacturing activities are concentrated. Established in its sector for almost 50 years, the company has a range of weight control systems through its weight controllers, as well as labeling solutions.
TG3-A weight controller
The TG3-A weight controller allows precise control of the weight of all types of products (in natural state or already packaged, cans, cases, boxes…), in addition to a safe diversion of defective products. All iXAPACK GLOBAL weight controllers are equipped with a stainless steel structure, a high-precision statistics program and simplified recipe management for quick format change.
In order to respect the quality of the customers' products, the company offers different types of ejection systems: anti-rotating cylinder, tongues, tilting belt or even air ejector. The ejection of the out-of-range products is carried out in stainless steel containers or on roller tables. This type of equipment is also available in single, double or triple track for the largest productions.
The conveyor belts that make up the machine are easily removable – for easy maintenance – in all versions of the available controllers (standard version, box weigher and version with IP69K protection). For a more exhaustive use and to ensure that the products are free of ferrous, non-ferrous and stainless steel elements, the TG3-A weigher can be combined with a CEIA metal detector, guaranteeing the maximum level of particle control.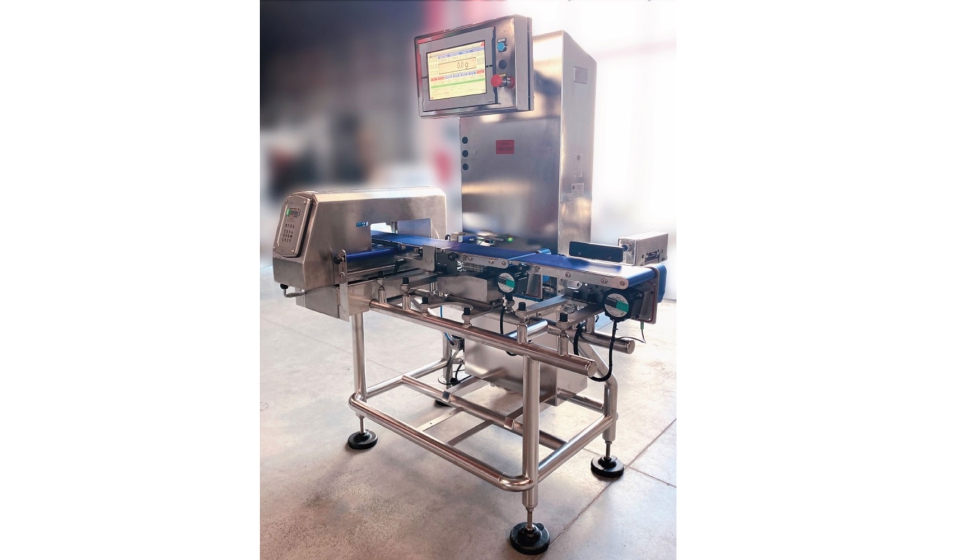 Labeling solutions
iXAPACK GLOBAL also offers labeling solutions. Versatile and small in size, the labeling machines proposed by the French company can be used alone or integrated into a checkweigher. The labels are applied by means of a foam roller, by cylinder or by suction belt (depending on the cadence and the processed elements) and can be applied on the side, top and/or bottom of the products – for labels from 20 to 220 mm–.
Recently, iXAPACK GLOBAL has developed a new labeling machine that is lighter, less bulky and more flexible. It allows applying, through a contact process, different label formats on a wide range of products. The new labeling machine features fast and easy coil change, transparent label detection cell, coil end notice… The labeling machine models have numerous functions that facilitate their use.