Kliklok-Woodman to Exhibit New Machines at Interpack 2005
2022-11-27
Bristol, UK — Kliklok-Woodman, an industry leader in packaging solutions for the snack food, bakery, confectionery, and frozen food industries, will be exhibiting three new machines at Interpack, Duesseldorf Germany, in April 2005.
Interpack will see Kliklok-Woodman's European launch of two of the industry's best-selling bagmakers, and a new high-speed end-load cartoner.
Polaris II
Now featuring full servo motor control for the ultimate in reliability, Polaris II offers Insight® Color Touch Screen for easy operator set up and use, automatic machine timing for optimal performance and a Yaskawa "off-the-shelf" PLC control system.
Compak II
Providing the same compact footprint as the original, the updated version offers an increased bag size range; off-the-shelf PLC control; Insight Color Touch Screen; automatic machine timing and advanced snack food features.
Servo HSR
Full application of servos and Insight have dramatically reduced changeover times and mechanical drive components for maximum reliability and efficiency. Servo HSR will be integrated with Smooth IPTU (SIPTU), a smooth belt product transfer unit, running at speeds up to 250 cartons per minute.
In addition, Kliklok-Woodman will also be exhibiting other signature machines, which represent the full capabilities of Kliklok-Woodman's packaging machinery range.
ECT500 Carton Erector
An efficient, and simple to use and maintain carton forming machine.
Vari-Right® Carton Closer
The newest release in the KW line of carton closers, with revolutionary Variable Pitch technology, providing "lugs on demand" for maximum carton control.
Certiwrap 150 Wraparound Cartoner
An industry leading machine for sleeving of single and multipack products.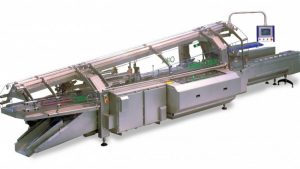 Kliklok-Woodman will be exhibiting in Hall 17, Stand No A-44, 21 – 27 April, 2005. Located Duesseldorf, Germany, Interpack takes place every three years, showcasing well over 2500 exhibitors from all over the world, presenting the latest in packaging machinery, materials, and accompanying services. The show site has over 17 exhibition halls, covering an area of 1.6 million net square feet, and is the largest show of its kind in the world.
For more information about the show visit www.interpack.com