Pascual will improve the recyclability of the packaging of all its brands by incorporating the new united cap
2023-01-10
Pascual has started the transformation of all its containers to incorporate a bonded stopper, produced from sugar cane, which improves its recyclability. The company is thus beginning its adaptation to Directive 2019/904 approved last June 2019 by the European Parliament and which will enter into force from July 2024, with the aim of promoting the circular economy and reducing the use of single-use plastics.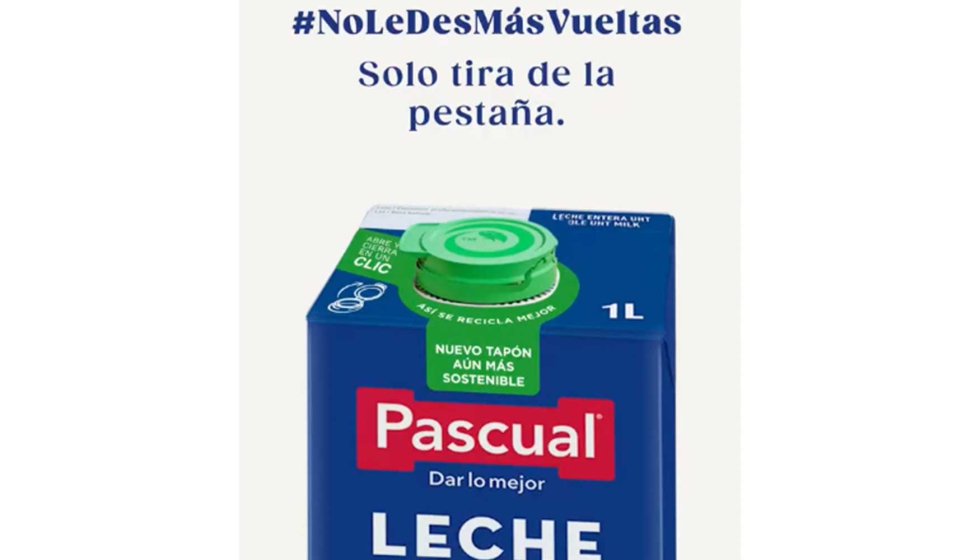 Leche Pascual incorporates a stopper attached to its briks, even more sustainable than the previous one, since in addition to being manufactured from a renewable material such as sugar cane; now it is also attached to the container itself facilitating its recycling. This transformation will be implemented in its classic range packaging, which includes whole, semi-skimmed and skimmed milk. From there, Pascual will continue to introduce this format to the market through brands such as Bezoya, Bifrutas, Vivesoy or Essential, gradually.
It is a process that will be gradual, but finally, all brands plan to meet this goal and most of them will reach it by 2023.
Pascual is thus adapting to a legislative change that poses a challenge for the packaging and packaging industry. In addition, the directive also contemplates other measures such as that plastic bottles and briks whose main component in the manufacture is polyethylene terephthalate ('PET bottles') contain at least 25% recycled plastic, an indicator that brands such as Bezoya already comply with 100%.
Comprehensive packaging innovation strategy
For years, Pascual has been immersed in an innovation process to offer its brands' products in increasingly sustainable packaging. In this way, all the bottles of its weak mineralization water brand, Bezoya, are made entirely from other bottles and the brand also premiered its bag in box format, already available on the alimentación channel, which allows using 60% less plastic per liter and serves as the basis for brand innovations such as the tap for hospitality, the dispensing of water in vending machines or the home service with projects such as Bezoya Directo.
The circularity of the packaging is also present in brands such as Bifrutas, whose Tetra Brik Bio-Based are composed of at least 77% renewable raw materials, using cardboard that has FSC certification. In addition, the Bifrutas briks have a new 100% renewable stopper made from sugar cane and their retractable bunchers have 50% recycled Polyethylene (PE).
On the other hand, Leche Pascual y announced the introduction into the market of the first milk bottle on the Spanish market made from materials of vegetable origin, with 28% vegetable resin, produced from sugarcane. A release that joined its brik made with 89% plant-based material. In addition, in 2020, it was a pioneer in launching the first Tetra Brik for UHT milk to the market with 89% materials from renewable sources. In the same way, the Mocay coffee brand uses compostable coffee capsules, with the OK Compost Industrial certificate, thus proving that they reach a degradation level of at least 90% within 6 months in an industrial compostability plant.
Pascual and its brands will continue to apply technological innovation to contribute to sustainable consumption and the recyclability of packaging. An objective also present in European legislation, since the Directive (EU) 2018/851 on waste contemplates the reuse and recycling of municipal waste up to a minimum of 55% by weight.