Quality Packaging Methods For Quality Products
2022-12-05
In 1976, Joel Knox founded Inland Fresh Seafood Corporation of America. About twenty years later, the valueadded manufacturing facility, Inland Market Premium Foods was then established.
At first it served exclusively as a bulk packer for restaurants and retail fresh seafood cases. Realizing the market potential for these quality entrees, they established an exclusive high-end Inland Market retail brand nationwide and now offer retail quality entrees such as Bronzed Tilapia, King Crab Cakes, Beef Wellington and Chicken Cordon Bleu Wrapped in Puff Pastry. They also make delicious seafood salads like Cajun Crab and Crab and Artichoke and heat and serve seafood dips like Buffalo Shrimp and Smokey Lobster.
Though Inland Market protects and promotes the hand-made quality of their products, they wanted the packaging to reflect a high quality retail image. After much research and the assistance of Larry Mullin of All State Packaging, it was decided that paperboard cartons with high quality graphics would offer the company a whole new line of customers and means to distribute their fantastic products.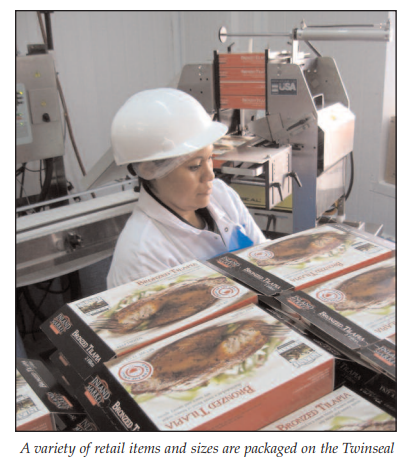 "We then looked into an entry level machine that could be a work horse and offer us a simple, efficient, and safe way to glue seal our cartons," explained Evan Pihera, the company's project manager. "We met Tom O'Handlen of X-CEL Systems at the Boston International Seafood Show. As we discussed our needs with Tom, it became obvious that ECONOCORP and X-CEL had the right machine solution for our application, namely the ECONOSEAL Twinseal."
"ECONOCORP offered customer videos, testimonials and references that we needed to see and hear," added Pihera. "The Twinseal seemed a small investment based on the increase in productivity. The simple breakdown of labor hours of manual gluing vs. the semi-automatic Twinseal approach made the savings quite apparent on paper. Previously, we toyed with glue strips and other manual sealing means that required a shift of 10 employees to pack and seal only about 10 cartons per minute. With the Twinseal, we consistently run 18 cartons per minute with only two operators. That's a labor savings of 80% while, at the same time, increasing productivity by 80 % !!! The Twinseal has been the ideal entry-level machine. Seafood production facilities are saline, cold and humid. The Twinseal is simple, rugged and has stood the test of these conditions."