Second Kliklok Centriwrap Unit Goes to Jütro in Germany
2022-12-01
Packaging machinery specialist Kliklok International has completed a deal with frozen food manufacturer Jütro Tiefkühlkost to install another Certiwrap C150 machine, ten years after delivering the first unit to its factory in Jessen, Germany.
Ralf Schuhmann, production manager for Jütro, initially approached Bristol, England-headquartered Kliklok in 2004 for assistance in a project requiring the addition of a new packaging production line to run ready meal trays. This year he returned to Kliklok as Jütro aims to increase the plant's capacity.
The second Certiwrap C150 will be used to pack ready meal bowls at a rate of 150 per minute, with single and twin compartments, in a full-length wraparound sleeve with tapered sides and a center glue seam.
Since its launch a decade ago, the Certiwrap range has been installed at over 90 locations around the globe. Highly customizable, the C150 machine offers a range of infeed modules, depending on product type and characteristics. For Jütro a "Smartbelt" system was fitted to enable a smooth, timed transfer process prior to sleeving.
Neil Fowell, Kliklok International's managing director, said: "We are delighted to be working with Jütro once again. We're very pleased to have such a long lasting relationship with the company and it is a real testament to the quality of our engineering and after-sales support."
Kliklok's "Certipak" cartoners pioneered wraparound cartoning, a technique which uses less materials without reducing the shelf display effect packaging front panels. Today, the latest generation Certiwrap cartoner leverages the experience of over 40 years in Certipak design and engineering. In addition to ready meal trays, it is built to handle a wide variety of items including tubs and other rigid containers. Products may be packed individually or in multi-pack configurations. Recent enhancements include the ability to wrap different shaped cartons on the same machine, plus an easy size change facility as standard.
About Jütro Tiefkühlkost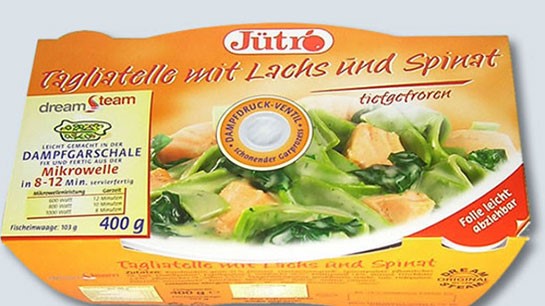 In addition to producing fish- and poultry-based ready meals, Jütro Tiefkühlkost GmbH & Co. KG manufactures a wide range of frozen fruit and vegetable products in multiple packaging formats including paperboard boxes, polybags, steam bags and steam dishes. The company uses patented Dream-Steam valve technology, which allows for gentle pressure steaming of frozen food meals or components in microwave ovens without loss of flavor, color or vitamin content.