Servo Technology and Motion Control Enhance ELITER's new Cartoner Machine
2023-08-11
Summary: The upgraded machine by ÉLITER Packaging Machinery is a continuous motion cartoner of a compact footprint and with a smart loader system.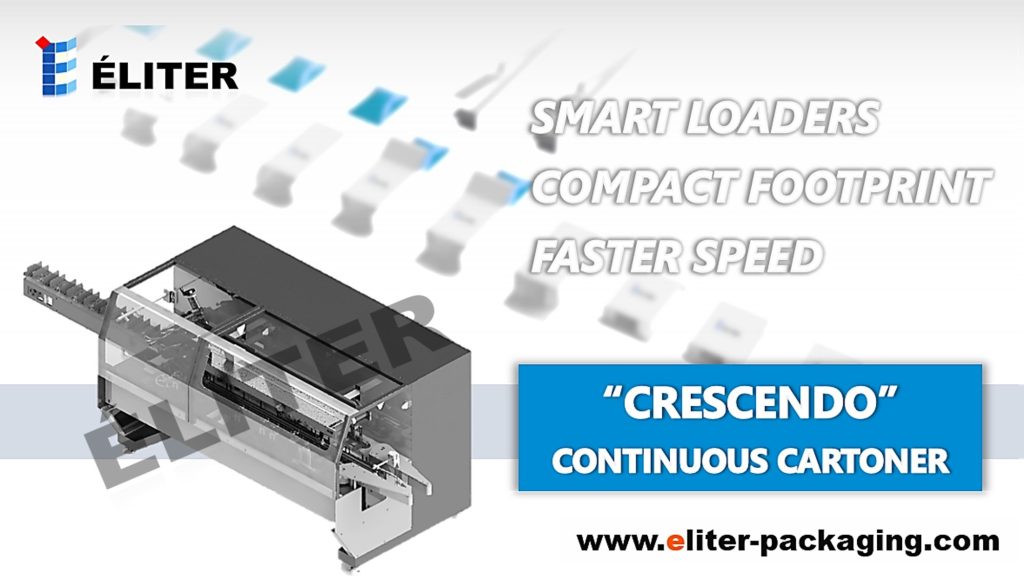 ÉLITER Packaging Machinery, a family-owned business in the field of packaging machines and packaging automation, presents an innovative solution to high-speed cartoning, more compact and smarter than the traditional way.
The conventional cartoning system for high-speed application usually consists of a bucket conveyor that constantly transports the products, for example, cereal in plastic pouches. The pouches are then transported along a barrel loader, which carries a series of pushers moves along a pusher cam track to insert them into the cartons, following an endless and continuous motion packaging mechanism. This kind of cartoning can bring various disadvantages including too many mechanical parts to deal with when taking a size changeover, the more complexity involved in the system, the worse the user-experience will be, then as well as the rising installation cost for increased number of components. (1. Frederick Lidington, 2007)
At ÉLITER Packaging Machinery, a small family business located in Wenzhou, China, engineers have been finding the way out to solve these problems.
¨The conventional cam loader system involves a bunch of pushers that move along the structure. Such a pattern is one of the key factors to blame for the considerable large footprint of a continuous cartoner, now that such a system will cause the cartoner to stretch in structure horizontally, especially for cartoners designed for medium and large size cartons¨, suggests Senyu Hu, a young engineer at ÉLITER Packaging Machinery.
The company reveals information on a new model of continuous cartoner, called Crescendo Cartoner, which has no barrel cam loaders, instead, the team has designed a smart loader system with servo technology to replace the conventional complex system.
¨With servo technology and motion control techniques, the new system, installed with two pushers, is able to keep pace the bucket conveyor to insert the carried products, then it retracts to keep following the next buckets that follows, he added.
During the design and engineering, the team at the company has also taken into consideration that application to medium and large-size cartons, so that the machine can be an ideal choice for food manufacturing companies to install high-speed cartoning solutions without taking too much facility space. The balcony construction will also contribute to the ease of cleaning and maintenance, which are critical for any machines working at a food processing and manufacturing facility.
The new Crescendo Cartoner will include benefits as follows:
Smart servo-driven loader system that realizes two insertions at a time
Maximum Speed of 200 cartons per minute
Reduced installation cost than a conventional continuous cartoner
Ergonomic structure with safety design in compliance with EC standards
Balcony design for easy accessibility, cleaning, and maintenance
Compliant FCMs and designed for application at the food processing facility
The company will debut this new model at International Food Processing & Packaging Equipment Exhibition 2023, in Qingdao, China.
About ÉLITER Packaging Machinery
ÉLITER Packaging Machinery, a HUANENG company, located in Wenzhou, China, is a manufacturer and global supplier of cartoner, overwrapping machine and wrap-around sleever.
For more information, please visit
Website: https://www.eliter-packaging.com
Email: info@eliter-packaging.com
Tel.: +86 139 588 12103