Sidel helps Guerlain expand its production capacity and prevent counterfeiting
2023-04-10
Guerlain, one of the oldest perfumery and cosmetics houses in France, uses Sidel's latest end-of-line and traceability technologies to combat counterfeiting of items. In addition, Sidel's Combi solution for packaging and palletizing bottles in cardboard boxes preserves the product and adds compactness to Guerlain's new line for advanced skin care.
---
This solution is installed at the company's main production plant, located near Chartres, in France. Guerlain is a subsidiary of the luxury goods conglomerate LVMH, and its factory, named 'La Ruche' (i.e. the hive), is located in the heart of what is known as the 'Valley of Cosmetics' of France.
Sidel has a solid reputation within this internationally renowned cluster, since many other of the luxury brands that are part of it have chosen their robotic and Combi packaging and palletizing solutions to achieve the high levels of efficiency and product preservation required by this exclusive industry. The champagne and cognac sectors have also opted for Sidel technology to improve their traceability and aggregation capabilities, as well as the pharmaceutical segment, which applies even more complex and strict serialization and tracking and localization systems, with real-time marking, tracking and aggregation.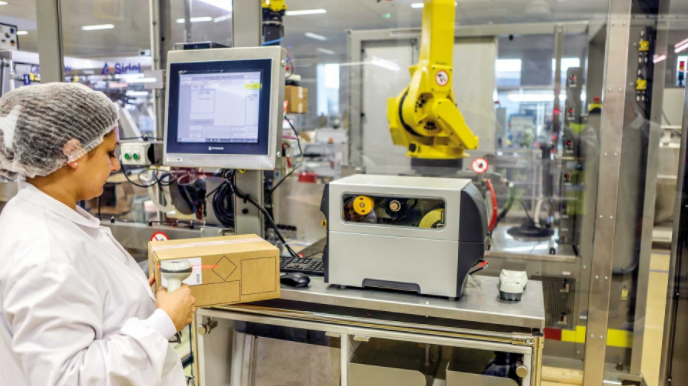 "Sidel integrated all the aspects of labeling, control and rejection of products that we needed and adapted the end-of-line process according to our traceability needs," explains Aurélien Bernier, investment capacity project manager at Guerlain.
The robotic packaging and palletizing Combi solution, designed by Sidel for a small space of less than 20 m2, manages the physical flow of products, boxes and pallets. It is capable of handling 60 cardboard packaging with bottles of skin care products every minute, in four different formats. Each box and pallet is identified by bar codes and labels, which are read, saved and added to Guerlain's central database. Thanks to this, the company can check at any time the origin of a product and all its characteristics through a search in this database, as well as remove any counterfeit items that are not registered in it, in addition to identifying any product that has been distributed in the wrong market. Sidel's end-of-line teams must generate more than 4,000 information exchanges per pallet to control the entire quality process, while maintaining a high level of availability and efficiency of the machines, with error margins of less than 1% for each production order.
In this industry of high added value, the care and integrity of the product are fundamental. The cartons are fully protected from the entrance, in the regrouping of batches and in the packing by appropriate conveyor belts and guides equipped with a felt protective cover to limit abrasion and friction.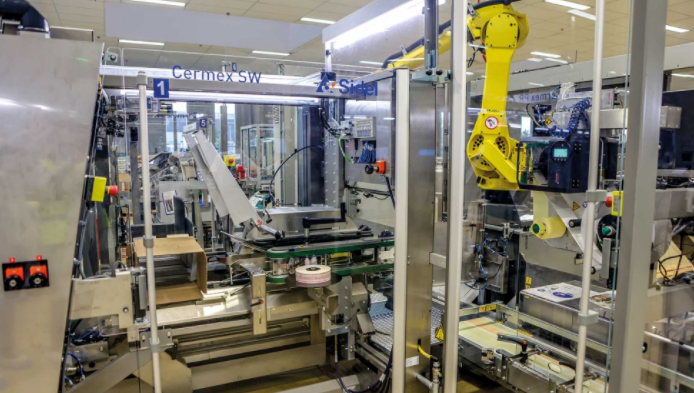 "We were aware of Sidel's reputation for high levels of traceability, and we were extremely impressed by their ability to customize and adjust automation according to our process and traceability needs," continues Aurélien. Sidel also had to adapt the automation and communication protocols of its machines to the configuration of our IT and our central database: we cannot accept modifications in this area, because all the perfumery and cosmetics facilities of the LVMH group use the same system."
Sidel provided its luxury customer with a customized automated solution and, at the same time, strengthened its quality processes. Thanks to its agility and its knowledge, Guerlain, with an extensive experience in the artisanal production of beauty articles, managed to adopt a comprehensive automation without losing the precision and the ability to adapt typical of manual operations.
If you would like more information about Sidel's Combi packaging and palletizing solution and Track & Trace system, as well as how you can benefit from our support for your business, please visit the Sidel website