THE ECONOSEAL PEGASUS CONTINUOUS MOTION CARTONER DOUBLES PRODUCTION OUTPUT WITH NO LABOR INCREASE
2022-11-29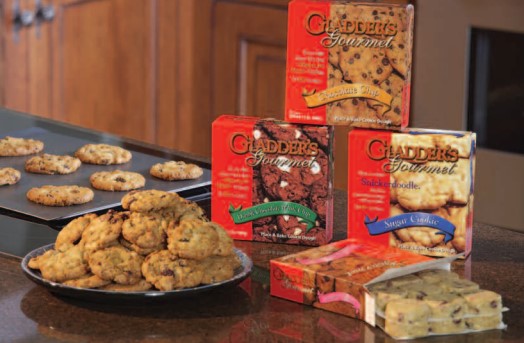 Gladder's Gourmet Cookies come in a variety of flavors
Gladder's Gourmet Cookies was founded by John Glader back in the mid 1980's. John began his business by literally hand scooping cookie dough into little plastic tubs. The entire Austin, TX operation was manual, from the mixing, packaging, storing, and shipping of product. The company developed a strong marketing niche in fundraising and has also established successful retail, private label, and institutional markets as well. Gladder's Gourmet Cookies also envisions the organic and gluten-free markets as new and emerging opportunities.
As the demand for product continued to grow, Glader realized that manual processing into tubs would not keep up with demand. Based on foodservice and fundraiser preferences, automated portioning of product into dough "pucks" began in Lockhart, TX in 1995.
Automation was a must when making a transition from bulk tubs to larger quantities of shrunk wrapped preportioned dough that must go into cartons with high quality graphics. The first automated process line included a hand load cartoner that would yield the required 15 – 20 cartons per minute.
As volume continued to grow, Gladders added an additional portioning and shrink wrap line and needed more cartoning speed as well as increased automation in order to match the increased product flow. They purchased an ECONOSEAL Pegasus cartoner including a bucket conveyor and barrel cam product loader. One operator is able to handle the product quality control function as well as the loading of the conveyor buckets with the shrunk wrapped products to match the new line speed of forty (40) cartons per minute, which is double the previous rate.
The machine operation is simple. The operator receives product from the shrink wrap tunnels and can quickly visually inspect each package as it is placed into a bucket section of the Pegasus conveyor. The machine is sensitive to conditions such as, "no product, no empty carton advance", and, "no carton, no product load".
ECONOSEAL Pegasus Continuous Motion, Horizontal Cartoner
When it comes to ECONOCORP's after the sale support, Mark Brown of Gladder Gourmet's maintenance department has strong opinions. "ECONOCORP has the best sales and field service personnel in the country. They are always friendly, helpful, courteous, and a pleasure to do business with. From the customer support side, it doesn't get much better than ECONOCORP."
The next step for Gladders Gourmet Cookie to consider in the packaging automation process is the Econopacker semi-automatic or the Econocaser automatic case packing systems to handle the multi-count corrugated shipping cases. These ECONOSEAL case packing offerings can be directly linked to the Pegasus cartoner in order to provide a fully integrated cartoning and casepacking system.