The first in-mold labeling solution with certified renewable polymers for food packaging
2023-11-01
Sabic has partnered with three specialists in the field of In-Mold Labeling (IML) to demonstrate the use of certified renewable polypropylene (PP) resins in high-quality mono-PP thin-wall packaging without compromising quality, processability, safety, or convenience. The one-step IML technology achieves seamless decoration of the piece directly in the injection mold, where the label becomes an integral component of the packaging itself. Specific label film types and high-definition printing technology result in a very attractive and cost-effective decorative solution. In addition to using certified renewable PP resins for both the molded pieces and the label film, the resulting packaging can be recycled in existing rigid PP recycling streams.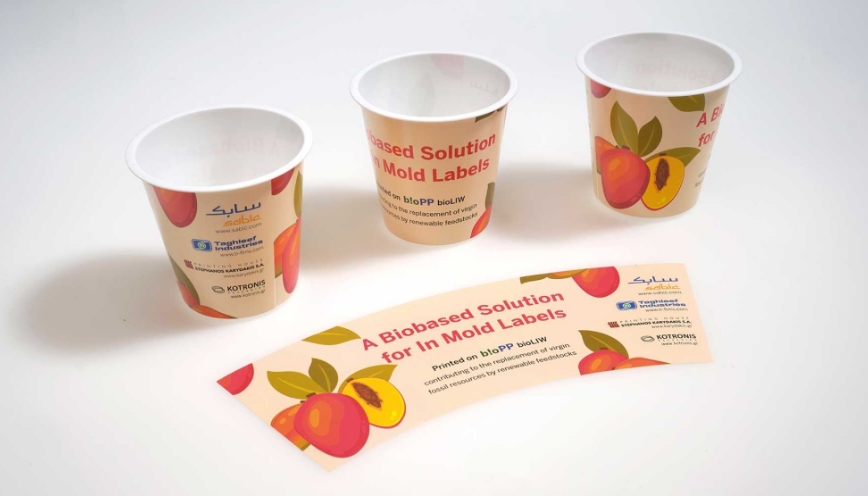 The labeling material for the IML packaging is a bioriented polyethylene film (BOPP) produced by Taghleef, a leading global supplier of film solutions for customers around the world, using a Sabic-certified renewable resin tailored to the BOPP process. BOPP films are widely used for injection molding applications with in-mold labeling in food packaging, dairy and beverage products, home, beauty and personal care. Taghleef offers transparent, white and metalized PP label films, all of which can be produced using polymers with biobased raw materials. In addition, they can be easily customized to meet the specific needs of gravure or offset printing to achieve the desired haptic textures and visual appearance, from a glossy, matte, orange peel or velvet touch to a completely alien look to the label.
As part of the present collaboration, the final BOPP film label is supplied to Karydakis, a leading specialist in optimized printing techniques, ink formulations and conversion technologies tailored for PP-based in-mold labels. The company's sophisticated process provides high-quality pre-printed labels with captivating designs and brand elements to suit the specifications of the final customer and ensure seamless integration with the packaging throughout the molding process.
Cut to size for stacking, the IML labels are finally supplied to Kotronis, a medium-sized family business specializing in injection-molded packaging for food products. Here, they facilitate efficient in-mold labeling of cups and tubs in a perfectly integrated and fully automated one-step process.