Case packers serve a crucial role in packaging operations by automating the process of packing products into corrugated boxes or cases. This blog aims to explore the concept of case packaging, shed light on the characteristics of corrugated box cases, discuss various types of case packers, and emphasize the advantages of utilizing corrugated cardboard cases. Drawing from credible industry sources and studies, we will provide an in-depth analysis of the importance and benefits associated with case packaging.
Case Packaging as an Essential Packaging Solution: Packaging is instrumental in safeguarding products throughout their journey from producer to consumer. Case packaging, particularly with corrugated cardboard cases, has gained widespread popularity due to its unparalleled durability, versatility, and cost-effectiveness (TAPPI, 2017). The utilization of case packers, which streamline and automate the packing process, offers increased efficiency, reduced labor costs, and stringent quality control.
Corrugated Cardboard Cases: A Comprehensive Overview: Corrugated cardboard cases consist of three layers of paper: an inner liner, an outer liner, and a fluted medium positioned between them (Doyon, 2018). This construction imparts remarkable strength, rigidity, and protection to the packaged product. The fluted medium acts as a shock absorber, cushioning the contents and minimizing the risk of damage during handling, transportation, and storage.
What are case packers?
Case packers are machines used in packaging operations to automate the process of packing products into cases or boxes. These machines are designed to efficiently and accurately load products into containers, ensuring consistency and speed in the packaging process.
Case packers come in various types and configurations to accommodate different packaging needs. They can handle a wide range of products, including bottles, cans, cartons, pouches, and more. The primary goal of case packers is to automate the packing process, reducing the need for manual labor and increasing efficiency.
Typically, case packers are equipped with mechanisms that pick up products from a conveyor belt or an upstream machine and place them into pre-formed cases or boxes. Some case packers can also form cases from flat sheets of cardboard or corrugated material before loading the products.
What are the different types of case packers?
Vertical Case Packers: These case packers load products into cases from the top, making them particularly suitable for fragile or delicate items. Vertical packing minimizes the potential for impact damage during the packing process, ensuring the integrity of the packaged products while maintaining operational efficiency and speed (Gheysens et al., 2020).
Horizontal Case Packers: In contrast to vertical case packers, horizontal case packers load products into cases from the side in a horizontal orientation. These highly versatile machines can accommodate a wide range of product shapes and sizes, making them ideal for high-speed packing operations (Shi et al., 2019). The versatility in product orientation ensures efficient utilization of space within the case.
Robotic Case Packers: Equipped with articulated robotic arms, robotic case packers offer unparalleled flexibility. These machines can be programmed to handle various product types and execute complex packing patterns with precision (Trinomic, 2021). Robotic case packers excel in delivering adaptability, speed, and accuracy in packing operations.
Case packers play a crucial role in optimizing packaging operations by ensuring consistent and efficient packing processes. They offer benefits such as increased production speed, reduced labor costs, improved product integrity, and overall operational efficiency.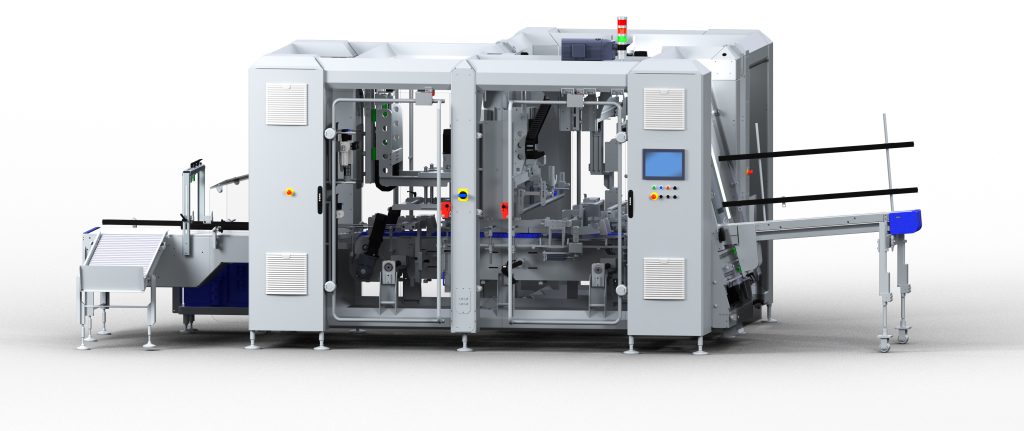 What are Corrugated Cardboard and Corrugated Cases?
Corrugated cardboard is a versatile and widely used packaging material composed of three layers of paper: an inner liner, an outer liner, and a fluted medium positioned between them. This construction gives corrugated cardboard its characteristic rigidity, strength, and cushioning properties.
The inner liner and outer liner, also known as the facings, provide protection and stability to the cardboard. The fluted medium, which consists of a series of ridges and valleys, acts as a cushioning layer and adds strength to the cardboard. The flutes also create air pockets that enhance the cardboard's resistance to impacts and shocks during handling, transportation, and storage.
Corrugated cases, often referred to as corrugated boxes, are containers made from corrugated cardboard. They are commonly used for packaging and transporting various products, ranging from small items to large shipments. Corrugated cases are designed to provide protection, support, and secure containment for the products they hold.
Corrugated cases offer several advantages as packaging solutions. They are lightweight, easy to handle, and cost-effective. The cushioning effect of the fluted medium in corrugated cases helps absorb shocks and prevent damage to the contents inside. Additionally, corrugated cases can be customized with printing, labeling, and structural modifications to meet specific product requirements and branding needs.
Corrugated cardboard and corrugated cases are highly versatile and widely used in numerous industries, including food and beverage, e-commerce, electronics, pharmaceuticals, and more. Their popularity stems from their durability, recyclability, cost-effectiveness, and ability to provide effective protection for products during their journey from producer to consumer.
Corrugated cardboard comes in various types, each designed for different packaging applications and requirements. The main factors that differentiate these types are the number of layers (plies) and the flute size. Here are the most common types of corrugated cardboard:
Each type of corrugated cardboard has its own strengths and applications. Choosing the appropriate type mainly depends on factors such as the weight and fragility of the packaged product, transportation needs, and desired level of protection. Manufacturers and packaging experts can provide guidance in selecting the correct type of corrugated cardboard for specific packaging requirements.