Wrap-Around Sleever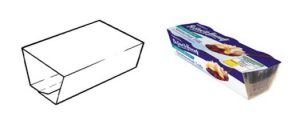 Wrap-Around application has been prevailing ever since the 20th century along with the growing of the food industry. Especially in the dairy industry, prepared and ready meals sector, trays of ready-to-eat meals, yogurt cups, snack cups, and so forth are often wrapped by cardboard or paperboard sleeves.
Wrap-Around Sleever is a machine for wrapping various containers with carton sleeve. The machine accepts random supply of products from the line, automatically selects, and loads the required number into the machine. A sleeve is selected from the sleeve magazine and placed directly on the products. The sleeve is then automatically folded and glued. The sealed sleeve is then ejected through driven discharge belts.
List of Wrap-Around Sleever Manufacturers around the World
Manufacturers around the world offering wrap-around sleevers are principally companies from Europe and United States, however, there are also some evolving new companies that now keep pace with those leading and well-known packaging machine manufacturers.
Some of the wrap-around sleever manufacturers in the world:
T. Freemantle
The name Freemantle has been associated with innovative machinery design for the last 40 years.
1980's
During the 1980's Mr Tony Freemantle designed a standard range of cartoning machinery incorporating many new and innovative features resulting in an unrivalled simplicity, ease of use and reliability.
The early 1980s saw the birth of the famous Handypack carton sealer. With many hundreds of installations throughout the world, this machine remains a popular choice for many smaller low throughput manufacturers.
1990's
In the early 1990s T.Freemantle Limited redeveloped this standard range of equipment to embrace the very latest in modern manufacturing techniques. This redevelopment saw the introduction of many industry firsts and began to place the company as the market leaders in the UK.
Throughout the middle to late 1990s the company enjoyed and continued strong growth which triggered the move to a purpose built manufacturing plant with fully equipped demonstration facility. Export markets began to open up with the appointment of a worldwide network of agents and distributors.
2000's
The company's commitment to continued development and innovation yielded another industry first with the launch of the Preglued Sleever. This patented machine complemented the already successful range of cartoning equipment and helped the company become the UK's market leading sleeving machinery manufacturer within two years of its launch.
ADCO Manufacturing
Founded in 1958, ADCO Manufacturing employs over 120 people and operates out of an 81,000 square foot facility in Sanger, CA. To date, ADCO Manufacturing has shipped over 3,600 machines worldwide – a success that CEO Kate King attributes to this family-owned corporations' commitment to quality, value, and world class customer service. ADCO offers a complete line of hand and auto load cartoners, top load carton formers & closers, wrap-around sleevers, custom machinery, and now robotics and corrugated tray formers & case packers.
Kliklok Woodman

2000 – Present
Kliklok's cartoning business and Woodman's form-fill-seal business are seamlessly meshed. This establishes Kliklok-Woodman as a source for totally integrated sales, service, engineering, manufacturing, and parts. This decade continues our company's concentration of resources on the development of new, best-in-class machinery within our core industry groups.
We've come to believe that we can be the best at what we do by not attempting to be all things to all people. We have streamlined our focus to build on our core competencies. As a result, deep partnerships with leading OEM suppliers of complementary technologies are solidified – allowing us to rely on fully vetted partner companies to deliver integrated system solutions.
Most importantly, there is a renewed commitment to the service and support side of our business. That comes out of a strong desire, beginning with our sales organization, to be a valuable packaging machinery consultant and productivity partner at every point of the process.
1990 – 1999
Kliklok-Woodman celebrates its 50th Anniversary as a packaging industry leader. During this decade, our installation base grows to encompass six continents and over 85 countries. Continuing product innovation also marks this period – with an extended range of end-load cartoners, new continuous-motion bagmakers, and industry-leadership in the use of color, graphic operator interfaces (now known as Insight®).
1980 – 1989
This decade's defining moment: consolidation of both the Kliklok and Woodman manufacturing operations in Decatur, Georgia. In the "what's new?" arena, Woodman pioneers the application of Servo-motors on its bagmakers and Kliklok develops and patents a new rotary carton feeder which, to this day, has yet to meet its match in terms of speed and efficiency.
Woodman International consolidates its worldwide operations at Kliklok International in Bristol, England.
1970 – 1979
Leading multi-national food companies turn to Kliklok and Woodman for new ideas to enhance productivity and drive sales. Consumer convenience and packaging economies spur continued commitment and change in machinery design and package styles. New production speed benchmarks are established by Kliklok and Woodman in their industries.
Woodman moves to Snapfinger Woods Drive in Decatur, Georgia.
1960 – 1969
Kliklok introduces the first Captain Line to complement the Kliklok topload machine systems. It is an integrated cartoning machine that erects sleeve-style cartons and places them into a flighted conveyor for product loading. Kliklok International Ltd. was established in Bristol, England to serve the packaging machinery needs of Europe, Scandinavia, South Africa and other international markets.
Woodman leads the flexible packaging industry with a new breed of fully integrated vertical-form-fill-seal machines. The Profit-Maker and Fleet-Weigh series set new standards for speed and efficiency – in hundreds of installations.
Bradford High Speed Packaging and Development Corporation purchases Kliklok Corporation and the Woodman Company – consolidating the two under the Kliklok banner.
1950 – 1959
The growing presence of home freezers drives the market for packaged frozen foods and Kliklok responds with automated carton forming and closing with early vegetable carton closing systems.
The Woodman Company pursues packagers' needs to achieve flexible packaging from a roll of web stock – leaving the days of pre-made bags behind.
1940 – 1949
The Kliklok journey begins (in 1944) when the Bemiss-Jason Company asks Binns Machine Works to develop a machine to produce four-ply laminated board made from bond paper, glassine and two layers of ground wood paper. In the process, design genius Reg Meller develops a method of folding the brittle glassine board and designs a tray corner lock which would click when snapped into place – called "Klikloks."
The Woodman journey begins (in 1947) when Dan Woodman and a team of engineers bring their concept to life: The Air Weigh System dedicated to the weighing and packaging of potato chips. Herman Lay, founder of the HW Lay Co. (forerunner of Frito-Lay), works closely with Woodman to develop the first automated potato chip packaging system.
Every Kliklok-Woodman solution has the same starting point — inside a customer's head. That simple statement explains two fundamental facts about our company. It's the reason we focus on a select group of market segments. And why our chief concern is more than what a machine does — it's what that machine can do for your business.
Of course, to understand what a customer is thinking, wanting, needing (in other words, what keeps you awake a night), we have to first know a customer's world. Not just from top to bottom, but from the inside out. We have acquired that knowledge through years of investing the time to delve into the issues, confront the hurdles, and monitor the changes of the sectors we've chosen to serve. Our big-picture perspective of your business environment is just as clear as our grasp of the day-to-day details of your operation. As a result, our many long-time customers have come to think of us as a packaging machinery manufacturer that doubles as a partner in their success.
For over sixty years (longer than almost any other company in our industry), we have never wavered from what we do best. And every challenge we have had over that time represents one more building block in our ability to be your trusted, reliable packaging machinery source.
Schuy
1977: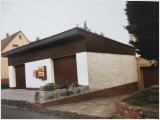 After many years of experience in the filling and packaging industry, Hans Schuy founded Hans Schuy GmbH on 01.09.1977 as a manufacturing and trading company for packaging and final packaging systems in the dairy, food and beverage industries.
Like every promising success story, that of SCHUY starts in a garage.
1979:
In December 1979 the first of several following new buildings was built in the Hünfeld industrial area North. Effective immediately, production and storage took place on 700 m²
1985:
In order to provide enough space for all employees, the old administration building was demolished in 1985 to construct a 600 m² new building with training rooms, 3D CAD centre, etc.
1987: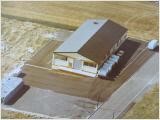 Due to the constantly increasing demand for used filling and packaging machines as well as for dairy equipment, an ultra-modern turning and milling centre (250 m²) with 250 m² storage area was built on the company premises in Hünfeld in 1987.
1988:
The next large new building was due for construction in 1988. At the headquarters in Johann-Pülsch-Str. 5 in Hünfeld a new 2,400 m² production and storage hall was invested in order to further increase the production capacities of SCHUY. This modern production and storage area offers a particularly pleasant working atmosphere for the employees due to its light-flooded facade with a 2.5 m large fountain. The 3-storey construction created additional storage and presentation areas in the basement.
1990'er Jahre: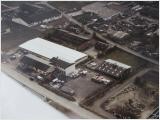 In addition to the used machinery business, which continues to be in great demand, the first own new machines from SCHUY were developed in the 1990s. This success story began with the SchuCup series – the first cup filling systems developed by SCHUY.
2000'er Jahre: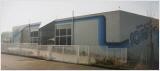 Besides the development of the SchuCup series, SCHUY has developed the SchuPack series, which completes an entire filling and packaging line as final packaging systems.
This extensive product range enables SCHUY to supply its customers "everything from a single source".
2013:
Delivery of the first 8-lane high-performance filling line in double-stroke design SchuCup 30000 to Saudi Arabia. Capacity: 30.000 cups / hour.
2016:
The Easyline brand strategy is realigned, so that the 1- and 2-lane ″BF 2000″ and ″BF 4000″ filling machines are fundamentally further developed. This represents a further advance of the Easyline – made by SCHUY series.
2017:
Schuy Maschinenbau GmbH was taken over by the end-of-line packaging specialist Folmeg Engineering from Eschwege.
This will enable future customer requirements to be implemented in an even more targeted and focused manner.
2020:
After taking over Schuy Maschinenbau GmbH since 3 years ago by Folmeg Engineering + Maschinenbau, we have intensified the cooperation between both companies and have developed synergies.
To symbolise this we are giving Schuy Maschinenbau GmbH a new name. From the 1st of April, 2020 we will operate under the name of Schuy + Folmeg Maschinenbau GmbH.
Schuy + Folmeg Maschinenbau GmbH TODAY:
over 40 years of know-how
owner-operated family business
approx. 30 employees + worldwide representatives
Export share of more than 70%
established on the world market
Paker
Located near Chartres, 80km from Paris, the Paker Group comprises a team of 30 experienced professionals.
Paker creates packaging solutions for: bottles, boxes, containers, glass jars, plastic cups, cosmetics and pharmaceutical products.
Paker builds all types of Flexible Multipack machines with packing rates ranging from 20 to 450 packs/min.
Paker takes care of the design specifications for the cardboard, allowing you to buy from the cardboard supplier of your choice with complete confidence that it will be compatible with the machine.